Alejandro Vargas
Blender 3.6.2
​
Preview ​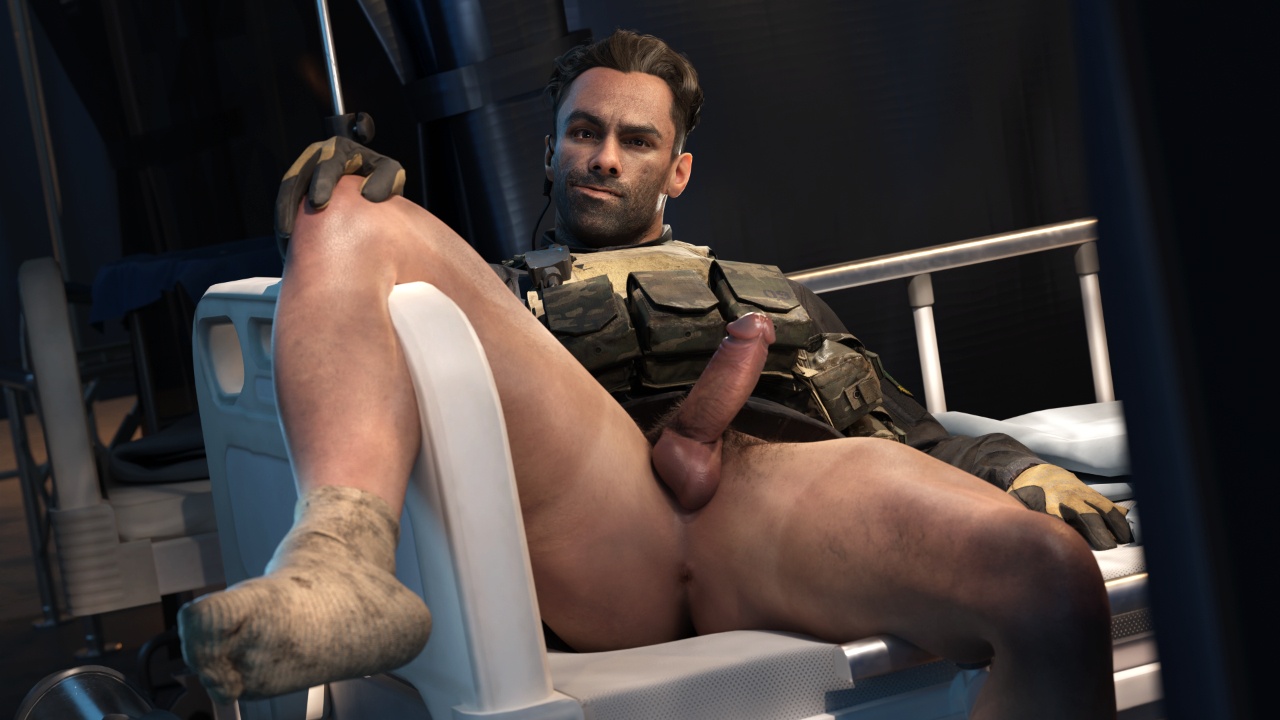 Feature ​
🦴 Fully Daz G8.1 Topology (FK + Rigify)
👕 Includes in-game costume
👨🏻 Basic Ckang Shader
---
✨ Controllable skin properties
🍌 Foreskin control
MustardUI ​
MustardUI is a convenient panel for you to use the model, found in the N key panel after clicking on Alejandro's Armature.
You can adjust genital toggle, skin properties, costume switching, body hair enable, and some minor features here.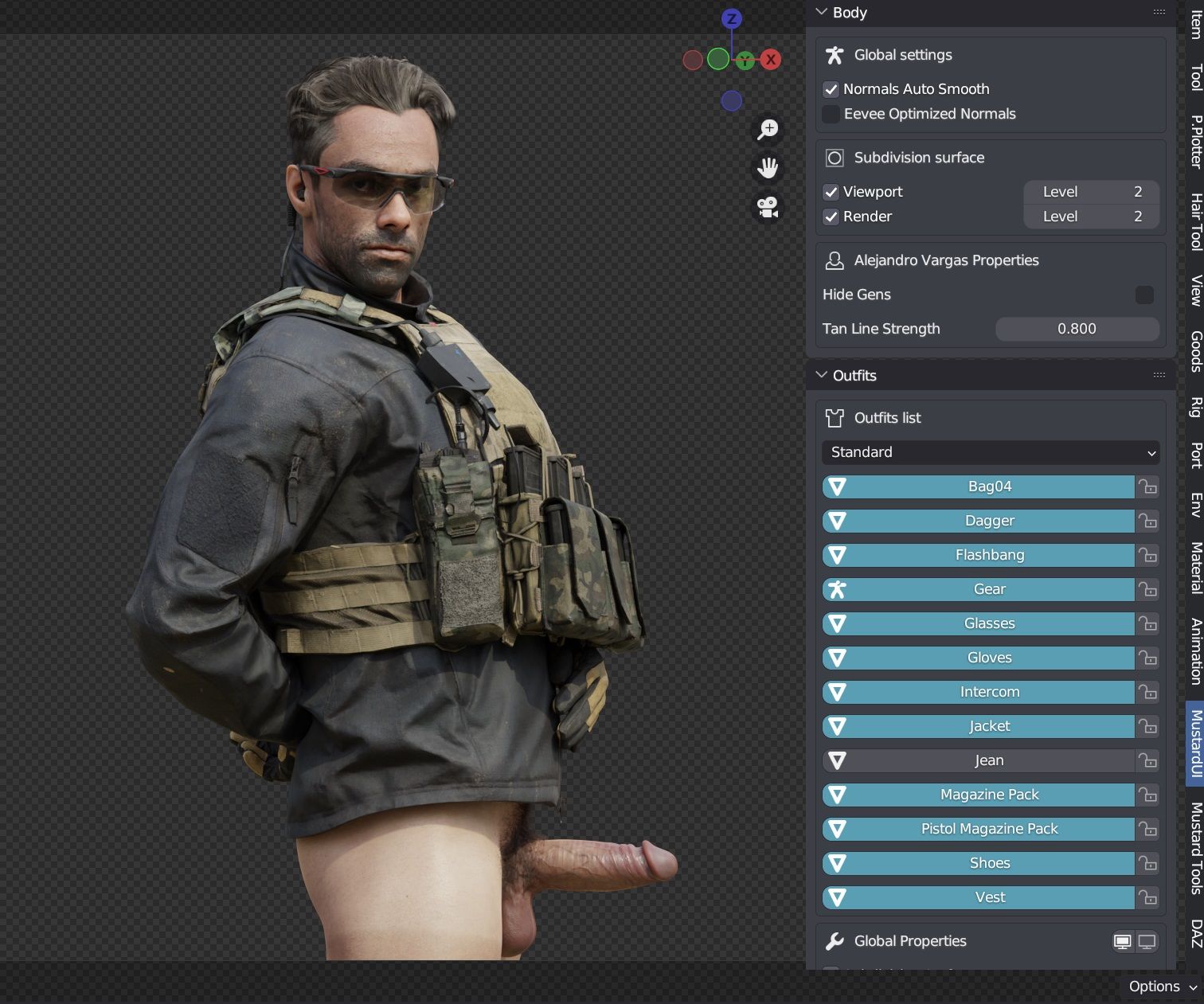 Includes in-game costume ​
Currently, I have set up a set of in-game outfits and an additional pair of socks.
You can switch between them using the UI:
Controllable skin properties ​
I have added a Tan line controller to Alejandro, you can adjust Dryness and Sweaty to make him looking sweaty for your render.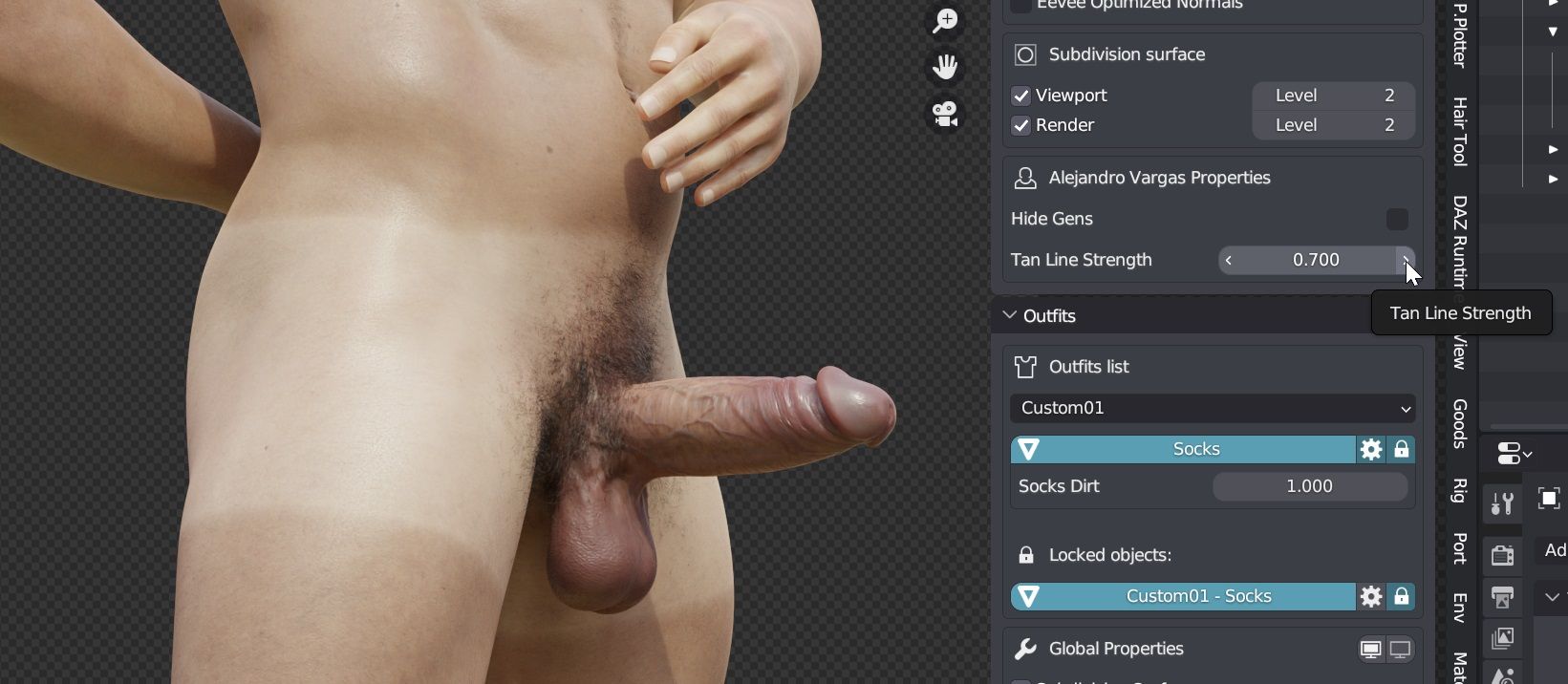 Curves hair ​
Alejandro has three types of additional body hair made from curve hair, including chest hair, belly hair, and pubic hair.
Due to a bug in Blender, even if the viewport display of curve hair is turned off, the geometry node modifier for curve hair remains active, leading to a performance decrease.
Therefore, by default, I have disabled the viewport preview for the hair's geometry node modifier, you can manually enable it, as shown in the image below. Chest hair is in the default state, while belly and pubic hair are manually enabled.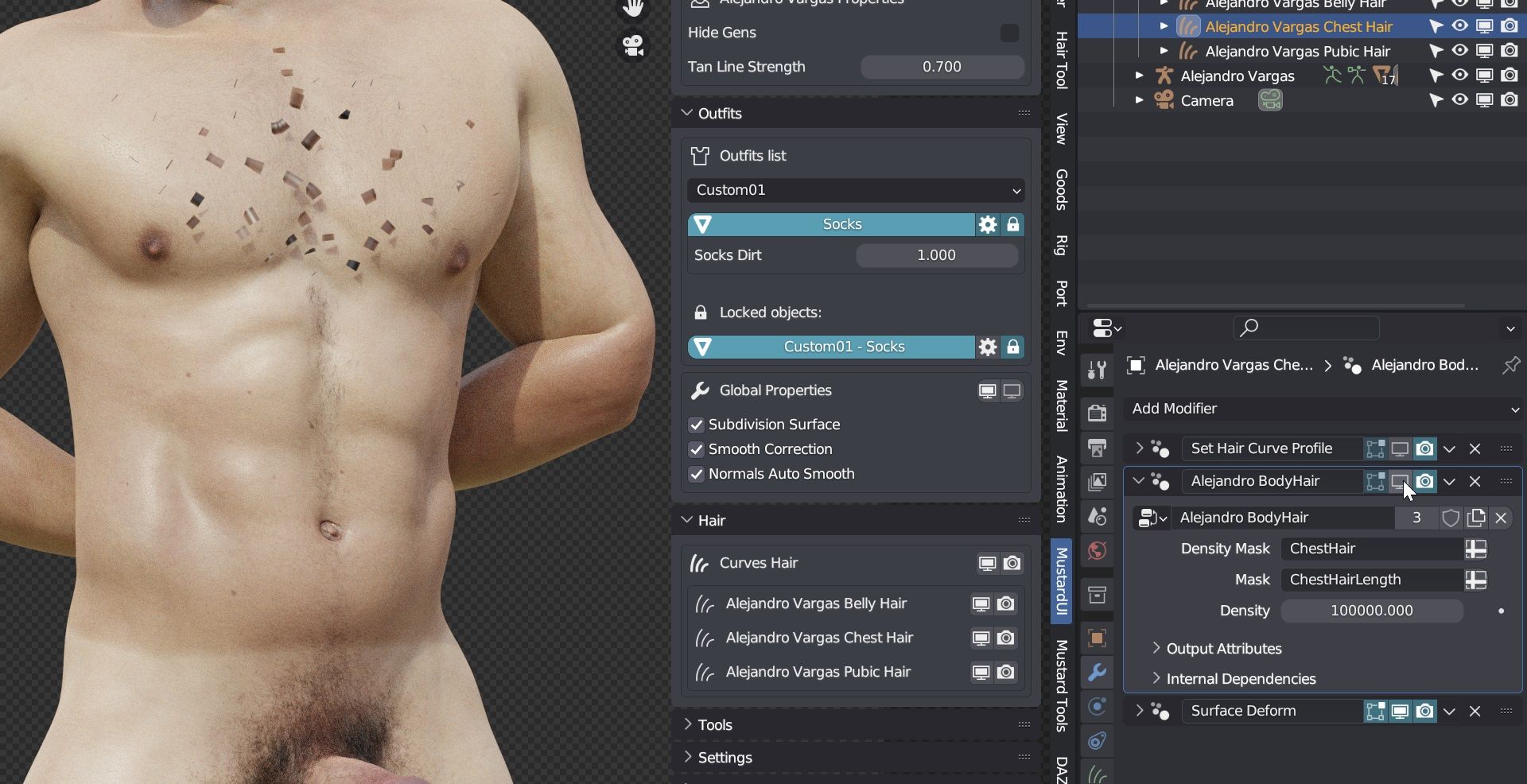 Foreskin control ​
As per the request of the client (Yes, Alejandro is a commissioned model from someone else), Alejandro has a foreskin structure that can be controlled using Shapekeys.
I have added a bone to control it. If you are using the Rigify version, please manually click on Alejandro's body model to find the corresponding Shapekey for control.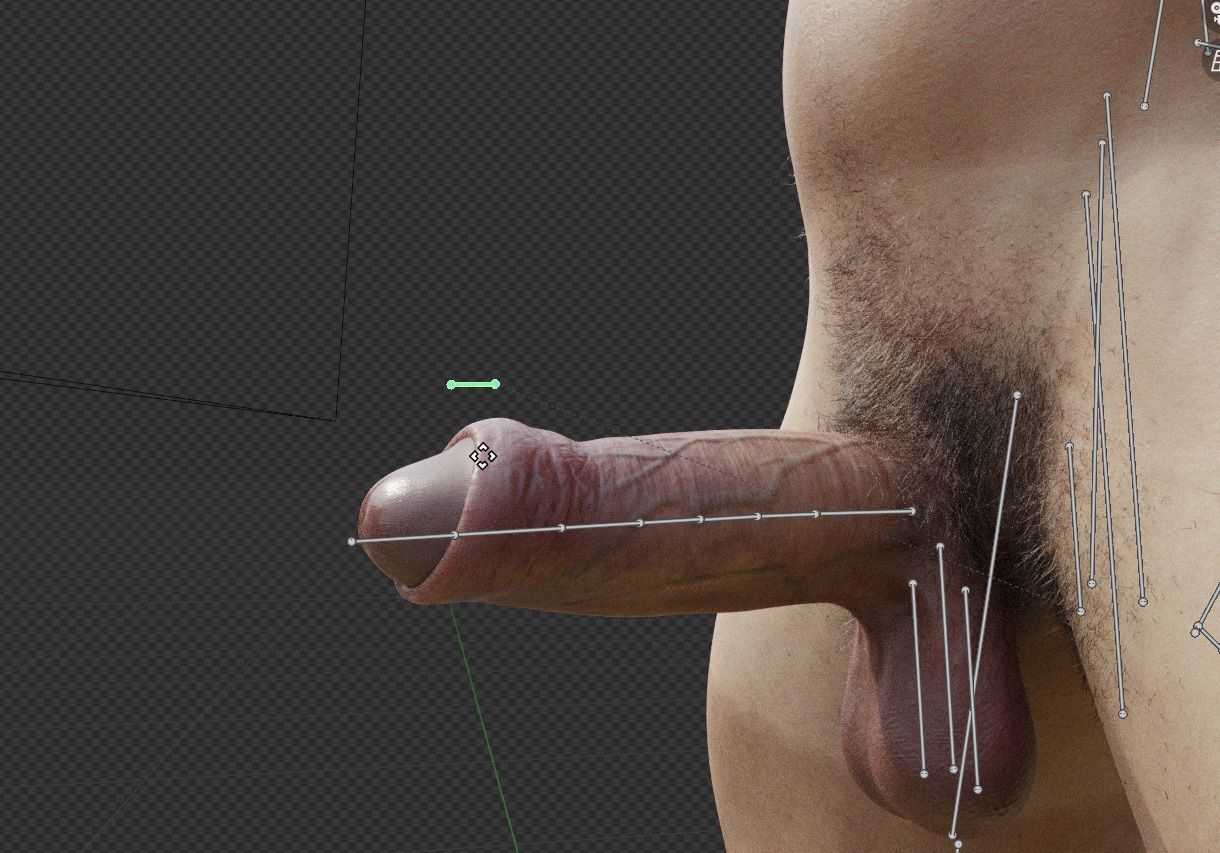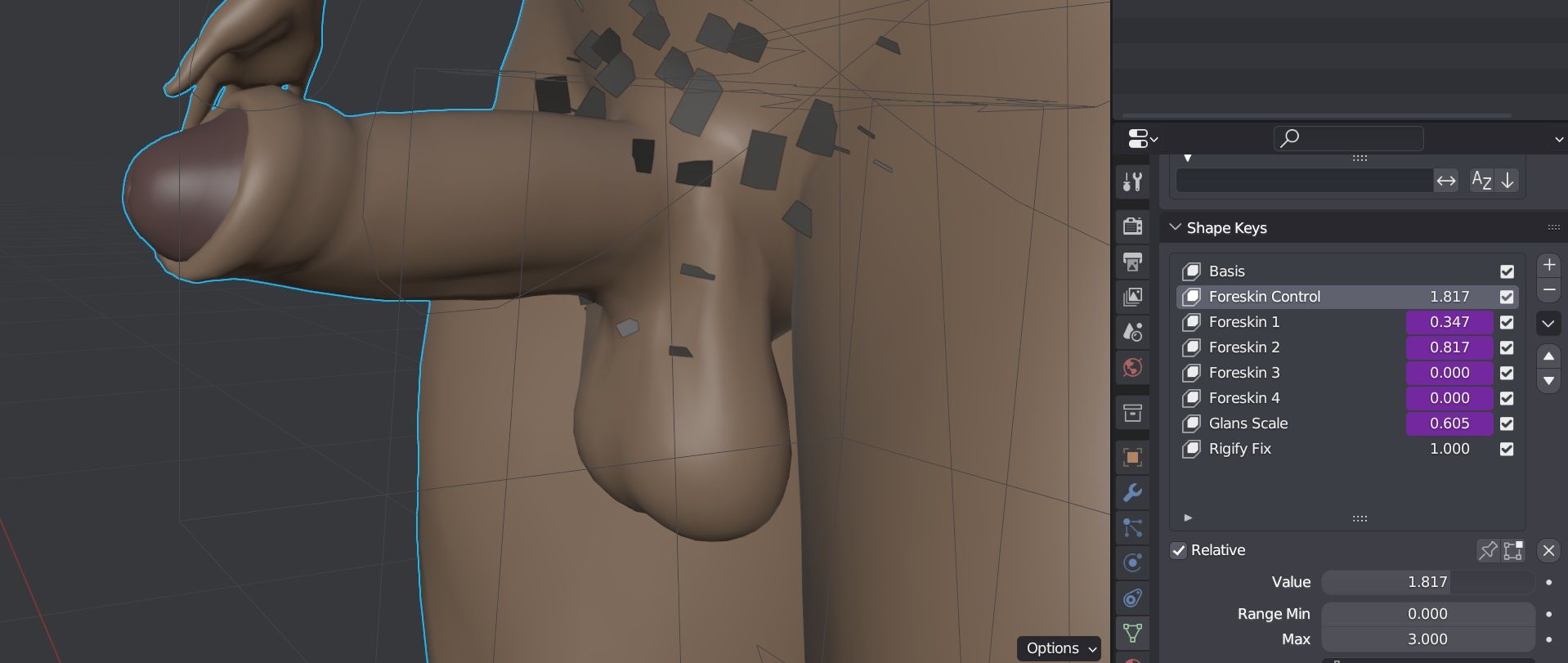 FAQ ​
How to control the genitals? ​
Click Armature, you can find Rig Layers in Item in the N panel, click Custom to display the genitals bones.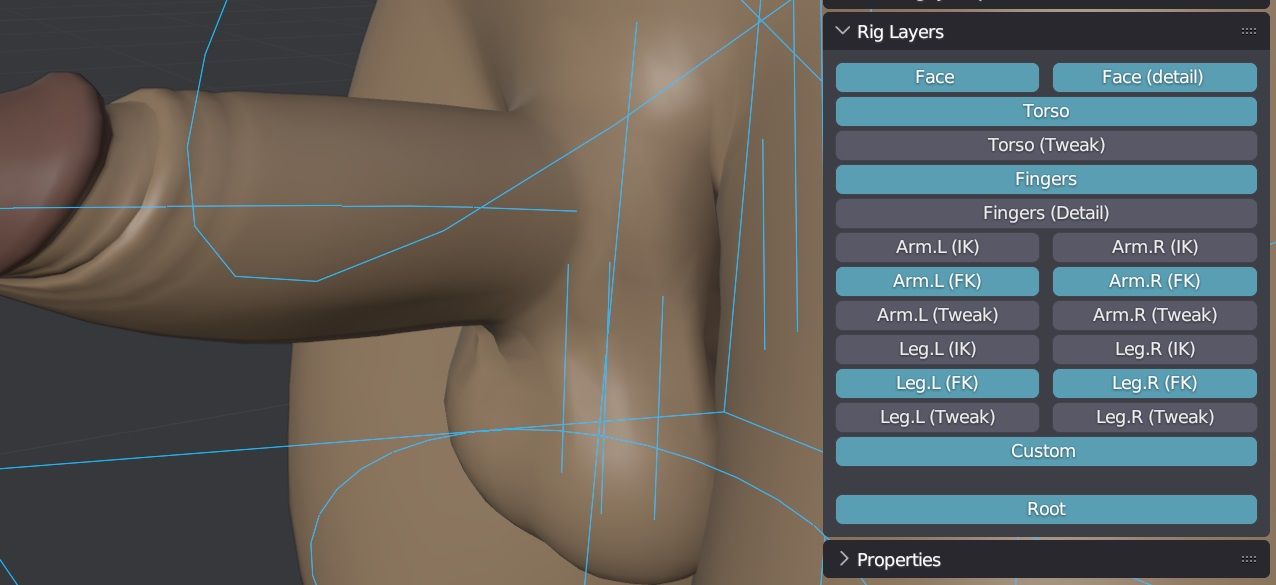 Changelog ​
August 31, 2023
v1.1
​
Expand for updates

Fixed Normal map bug

Contains Normal iterations of the right arm and face and head.

New Tan line and switcher

Fixed clothing components moving around in object mode
June 16, 2023
v1
​